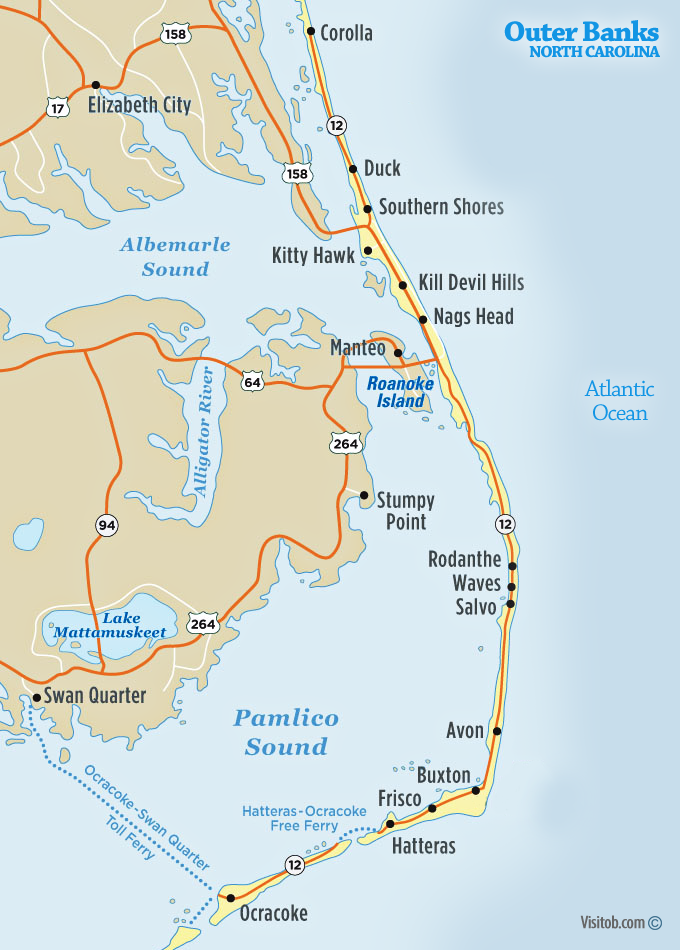 The Outerbanks or OBX is a long strip of islands off the coast of North Carolina. They are a series of barrier islands that are 200 miles long and separate the mainland from the Atlantic Ocean. The OBX is known for its beautiful beaches and unique lighthouses. Since we had first moved to North Carolina, I had wanted to visit. I had seen pictures and talked to family and friends that had already been there. It was one of the top places on my bucket list, but I wasn't for sure exactly what we would do or where we would go first.
As a mother of three, it can be quite difficult to make sure that I get equal amounts of quality time doled out to my kids. After having my youngest child, the older two often felt that they didn't get enough personal time with me. So, when planning this trip, I decided that it would be a trip just for myself and the older two kids. I would get to give them a little extra special attention without being distracted or pulled away by the little one.
As the Outerbanks is a long strip of islands, in order to see the most we could, I knew we wouldn't be staying in the same location each night. That is hard to do when you want to rent a place to camp and not worry about packing everything up each morning. We had four days and three nights to enjoy together. On a tight budget, I started planning out where we could stay and what we would eat.
At the time, we were living on Seymour Johnson Air Force Base in Goldsboro, North Carolina. It was a 3 to 3.5-hour drive to get over to the Outerbanks. That needed to be taken into account when it came to timing. I decided on staying in two separate places. By the time we loaded down the van and got ourselves down the road, I knew that we wouldn't be getting to the Outerbanks in time to do too much the first day. I decided to just relax and enjoy the trip over.
The Roadtrip Plan
Day One: Goldsboro to Manteo, Manteo to Nags Head. See Bodie Lighthouse, play on the beach. Stay in Nags Head.
Day Two: Nags Head to Rodanthe. Explore Rodanthe and the beach. Rodanthe to Buxton. See Cape Hatteras Lighthouse, play on the beach, get ice cream! Buxton to Hatteras. Stay in a cabin.
Day Three: Take the ferry from Hatteras to Ocracoke. See Ocracoke Lighthouse. Point Beach. Back to Cabin on Hatteras for games and dinner
Day Four: Pack up and head back. Hatteras to Kill Devil Hills for Duck Donuts. Back to Goldsboro
Our OBX Journey: Day One
Driving from Goldsboro, we took 64 West and stopped first in Manteo on Roanoke Island. After driving around a bit on the island, which is quite pretty and has its own attractions, we found the Roanoke Marshes Lighthouse. There we got out our pre-packed lunches and took a walk on the pier to stretch our legs.
I knew we wouldn't get to see the entire strip of OBX islands, but I was going to see as much as we could.
My main goal was to see as many of the lighthouses as we could manage. There are four main lighthouses on the Outerbanks. From north to south, there is Currituck Beach Lighthouse just north of Corolla, Bodie Island Lighthouse in Nags Head, Cape Hatteras Lighthouse in Buxton, and Ocracoke Island Lighthouse in Ocracoke. We would be getting to see three of them.
So, from Roanoke Island, we went across and then turned into Nags Head to find our first lighthouse, the Bodie Island Lighthouse. The towering black and white striped lighthouse has 214 steps that spiral to the top. It's quite the climb but the view is awesome. It had just been renovated in 2013 so that the public would be able to climb the steps and look across the Roanoke Sound. There are a keeper's quarters available that you can look through as well and tons of history to read up on. This was the first lighthouse like this one that I had ever been to. It was so neat with its thick black and white stripes; I was definitely impressed.
As cool as the lighthouse was, my kids and I were ready for the beach! I had booked a one-night stay in a small Roadway Inn that was just across from the water for only 55 dollars a night. It wasn't anything fancy but it was clean and that is all we cared about after the long drive and a full day! We were able to drop off our things, have a snack and walk ourselves right across the street to enjoy the sand and sun.
We got a few hours of playtime in before we were ready for dinner. We ate at a cute little place within walking distance called Sam and Omies. After dinner, we decided to walk back to the beach for the sunset. Our hotel was right across from Jennette's Pier which was the perfect stop to catch the sunset that night.
Our Journey: Day Two
The next morning, we drove from Nags down to Rodanthe. As you head south on Hwy 12, you will cross long bridges that take you right across the ocean water. It was so neat. You then come through the Pea Island National Wildlife Refuge with tons of greenery on both sides. It is about 30 minutes from Nags Head down to Rodanthe beach. There are plenty of beaches to choose from as you might imagine. I knew we wouldn't stay long in Rodanthe before making our way down to Hatteras. With my cooler full of food, I had to stop and make sure it was full of ice, but we did stop and explore the area as well as Avon. Both are small little towns with tons of charm. We met a family that lived there and they told us their story of how they decided to quit the big city and move to this small quiet town to raise their family. It was so sweet and they seemed so incredibly happy it had my head swimming with ideas!
From there, we headed to the Cape Hatteras Lighthouse. It is located in Buxton right near the beach along the Atlantic Coast. This lighthouse is black and white just like Bodie but with diagonal swirling stripes. It was definitely our favorite lighthouse! It was so stunning where it sat along the beach and was really fun to climb to the top and look out all around us.
This area, called the Diamond Shoals, is said to be highly dangerous for ships to come through and has even been given the nickname "The Graveyard of the Atlantic". The lighthouse is made out of brick and we read that it is the tallest brick lighthouse in the United States. Inside, there are 268 curling metal stairs that take you to the light at the top. Once again, we looked around the area, read up on the history (the lighthouse was actually moved almost 3000 feet in 1999!), and visited the keeper's quarters.
After that, it was beach time again! There is a beach access ramp just south of the lighthouse. All along that beach, you can see the lighthouse in the distance and it creates the perfect backdrop. My kids loved this beach! There were several spots where the terrain dipped down and created pools of water left from after the tide went out. They had their own little natural made pools to swim in. Daisy was in heaven! We stayed at this beach longer, and I was happy I had extras sunscreen!
For the rest of our stay in the Outerbanks, we were staying in a small cabin at the Hatteras Sands Campgrounds. For 90 dollars a night, we had our own adorable and brightly colored cottage. It had a full size bed downstairs and two cots on an upper floor. There was a fridge for me to put away the rest of our food, a microwave for popcorn, a separate trailer for bathrooms and showers. It had its own small porch with a picnic table, and it was so well located it was easy for us to go and explore and return at night. There was even a pool which my kids (for some unknown reason) wanted to swim in each night! I guess after the crashing waves, they were ready for calmer waters.
We pulled out the board games and cards to play Monopoly and Battleship, Slap Jack and Go Fish. We made our way through all our food which required a second trip to a local grocer. Whenever road-tripping with my kiddos, I also pack as much healthy food as I can. My grocery list consists of everything for sandwiches, easy-to-eat fruits and veggies, crackers, chips, cheeses, pickles, and a few sweets for treats. For everything you need for a road trip check out my Road Trip on a Budget Blog.
At night we strolled around the area and looked at all the giant rental homes in the area. We found a lit-up pier, a small beach with a bunch of hermit crabs, and watched the sunset yet again. I cannot even express the gratitude I feel for having gone on this trip with my kids. The three of us bonded even closer than before. With so much of their normal energy being expended and no baby to contend with, we had the absolute best time together.
Our OBX Journey : Day Three
For our third day, we took the Hatteras ferry across the Hatteras Inlet to Ocracoke Island. The kids were so excited for this ferry ride! The ferry ride is completely free and takes less than an hour to get there. We got there early and drove our van onto the ferry which made me and the kids nervous since I had never done it before, but it was actually super easy.
For the ride over, we walked around the ferry and the kids enjoyed the spray of the sea. We were even lucky enough to see two dolphins! After getting to Ocracoke and driving off the ferry, I knew we needed to make the most of our time and be back early so not to miss the trip back.
The Ocracoke Island is quite green but with tons of beach and is much less developed that what we had seen so far. It is well-known for being the location of the famous pirate Blackbeard's death. They also have a good population of ponies that you can visit.
This trip include our last lighthouse, the smaller and completely white-painted brick Ocracoke Lighthouse stands only 75 feet compared to the Cape Hatteras lighthouses's 210 feet. My kids were less than impressed and were over my lighthouse obsession. Also, they were hungry! We ate at the SMacNally's Bar and Grill and pigged out on fried shrimp and some freshly caught seafood. We then went over to the Ocracoke Variety Store for some more beach toys and to fill up our cooler with snacks, drinks and ice.
The beach on Ocracoke was spacious and nearly empty, but after falling in love with the beach in Hatteras, it wasn't long until we were ready to head back. Taking the ferry back the same way we came, we got back to Hatteras with enough time left in the day to chill out at the cabin and enjoy our last night there. The kids wanted to play and swim in the pool, so I sat out and watched them play and read a little. It was another successful day for sure.
Our OBX Journey: Day Four
After all that fun in the sun, we were tanned and peaceful. The kids wants to go back to the beach one last time. We packed up all our stuff and cleaned up the cabin making sure to leave it just as tidy as it had been when we arrived. We headed to the beach for one last go, collecting shells and making designs with them in the sand. It wasnt long though until it was time to go. We were able to return to the campground to shower before the long drive back.
Heading north, we were all sad to leave. We had been having a wonderful time together, and honestly, I thnk we could have happily extended our stay for another couple days. However, it was time to get back to the littlest one who was waiting for us at home.
It cost us less than 500 dollars in total to travel to, stay and eat in the Outerbanks. Because of how I saved money by taking most of our own food, and staying in the cheapest places we could, we saved a significant amount of money. Pretty much any trip you take can be affordable if you plan it out right and focus on the time you spend together rather than the things you buy.
Thanks for reading!